The Meaning of Dreams ( Galerie Supernova)
17. Juli 2019
Herzlichen Einladung zur Ausstellungseröffnung.
19.07. – 16.08.2019
The Meaning of Dreams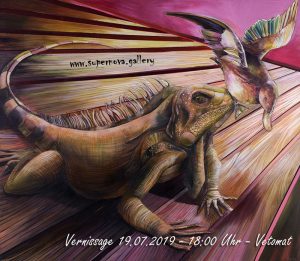 "Die Kunstwerke von Lee Young-sik und Guinchi L Monkeyboi laden zum träumen ein. Die Bedeutung der Träume hat viele Frauen und Männer inspiriert, nicht nur Künstler, auch Ärzte, Geistliche und Wissenschafter ringen darum, den Sinn, der sich hinter der Surrealität unserer Traumwelten verbirgt, zu entschlüsseln."
Galerie Supernova lädt euch ein, auf eine traumhafte Reise in die Bilderwelt von Lee Young-Sik und Guinchi.