Director of PAKS Gallery Heinz Playner shows Art of Young-Sik Lee in Vienna, MAMAG Modern Art Museum, Austria

"Artist Young-Sik Lee combines mythology with a touch of actual reality. His cosmopolitan philosophical thoughts flow through his works of art. The connection between metaphorical views and artistic implementation are fascinating in every work of art".
"Der Künstler Young-Sik Lee verbindet Mythologie mit einem Hauch von Realität. Seine kosmopolitischen philosophischen Gedanken fließen durch seine Kunstwerke. Die Verbindung zwischen metaphorischen Ansichten und künstlerischer Umsetzung ist in jedem Kunstwerk faszinierend."

By the interest to art of Young-Sik Lee please contact us: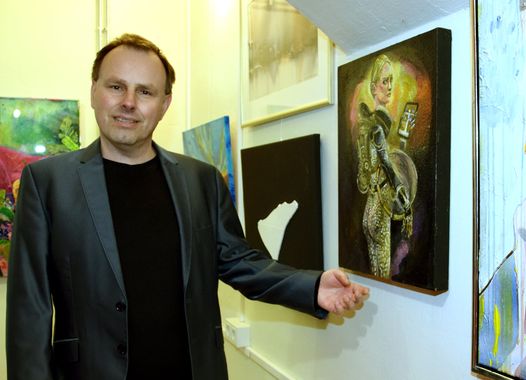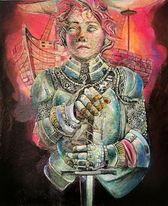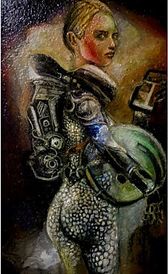 SHIBUYA ART EXPO / The Tokyo Art Exhibition im Mai 2021, Japan
Ich wurde von Contemporary Art Station in Tokio, Japan, zu The Tokyo Art Exibition eingeladen, konkret gesagt,
SHIBUYA ART EXPO / The Tokyo Art Exibition in Tokio, Japan am 27. bis 30. Mai 2021. Primium Kunstgallery.
Shibuya ist ein bedeutendes Handels, Finanz, Mode, Musik und Kulturzentrum von Tokio, der Hauptstadt Japans. Die Primium Kunstgallery befindet sich in der Nähe des Shibuya-Bahnhofs, wo busietst Station& Hot place in Japan ist.
Auf dieser Kunstausstellung werde ich mein neuer Bilder Zyklus-Das Goldene Vlies präsentieren.
Contemporary Art Station stellt mich auf seiner Website wie folgt vor:
https://www.contemporaryartstation.com/exhibitors-1/2021/3/9/young-sik-lee
https://www.contemporaryartstation.com/the-expo?fbclid=IwAR0RnVnSlh9mEQzNZ
https://www.contemporaryartstation.com/exhibitors-1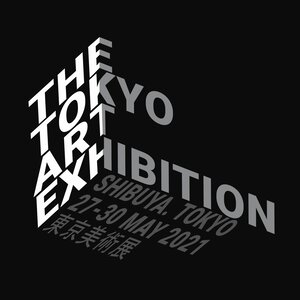 ---
Young-Sik Lee
Germany
LEE, Young-Sik born in Seoul, South Korea, has been studying, living and working as a freelance artist in Berlin since 2002.
Under the title "Metaphor", LEE mainly shows large-format works with colorful, emblematic animal-human scenes that can be described as a sequence or variation of a single motif.
In addition to the question of the metaphorical powers of images, the question can also be asked whether images as a whole can be a metaphor. The word "metaphor" comes from the Greek and means "transference". In modern art, the term stands for the symbolic use of parable pictures or as a synonym for allegory.
It is always images from different worlds that are assembled by LEE. Influenced by China's culture as the oldest culture in Asia, he uses detailed representation in combination with play of colors in his work to perfection. He attaches the greatest importance to conveying a certain mood that casts a spell over the viewer
Animals are deprived of their natural environment like the crocodile that emerges from the dark. His scaly armor shimmers brightly like mother-of-pearl in the light, his snout is wide open and in front of him is a dead bird. A closer look reveals a bizarre detail: on the floor there is a tote bag, a cultural asset of our time. Crocodiles live in symbiosis with birds, they are also the closest recent relatives of the dinosaurs. The picture is titled "Narcissus and Farewell". The meaning of this title is immediately apparent and is not in need of any further explanation. What remains is horror, LEE calls it: "The aesthetics of horror". When I start painting, the invisible becomes visible. Figures change, I relish the metamorphosis that comes with inspiration. LEE breaks down the lines between human and animal behavior. The atmosphere of the images and, upon closer inspection, the metaphorical references also reveal subliminal levels of meaning. His painting reflects today's times and the way "in which we submit to the world".
Die 2 neue Bilder für Parallax Art Fair in London 2021
Die 2 neue Bilder sind für Parallax Art Fair in London 2021 bereit.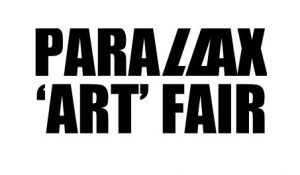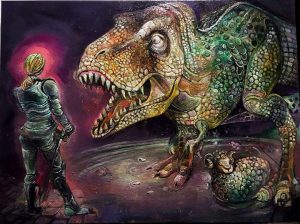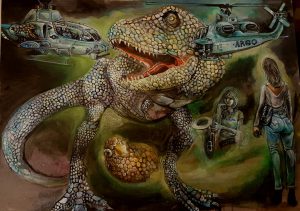 Die Suche nach dem Goldenen Vlies 1 und 2.
Acryl auf Leinwand
60cm x 80cm
2020 und 2021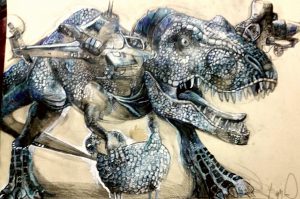 Entwurf / Die Suche nach dem goldenen Vlies / 2020
Kunstkalender 2021/ Sonderedition,Berlin,Germany
Galerie Dikmayer veröffentlicht einen Kunstkalender Sonderedition 2021.
Darunter ist mein neues Bild auf Januar Seite präsentiert.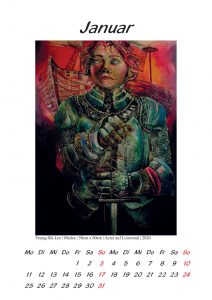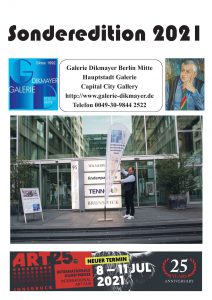 Wenn Jemand Interesse zum erwerben haben, Bitte melden Sie sich unter http://www.galerie-dikmayer.de.
Mit freundlichen Grüsse.
http://www.galerie-dikmayer.de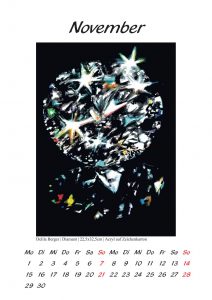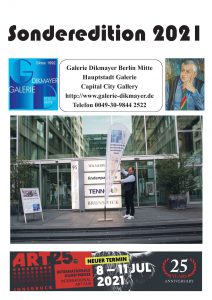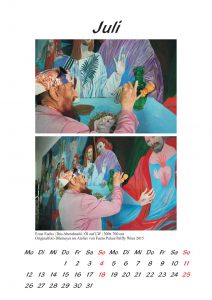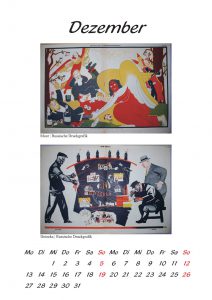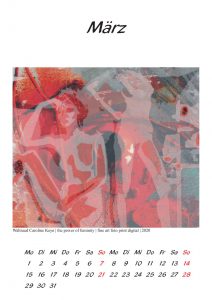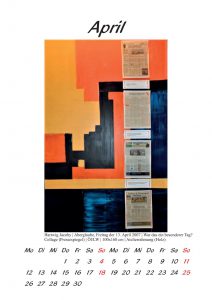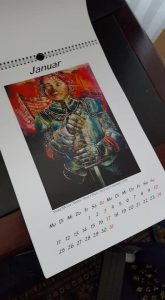 Paks Gallery International 2021,Wien,Österreich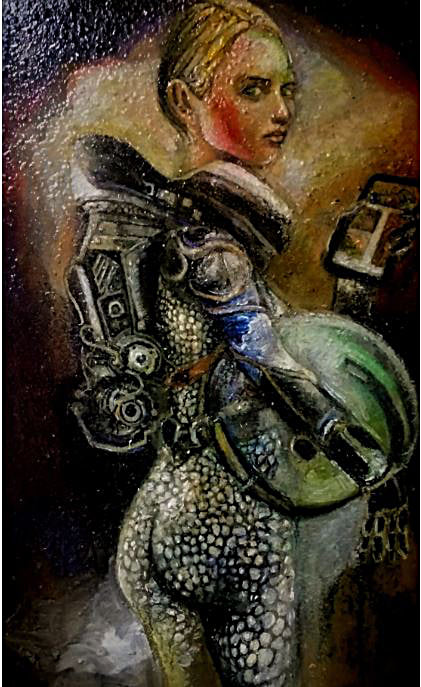 Young Sik, Lee
Argonaut 2.
Artist Young-Sik Lee"Argonaut 2 "50cmX 40cm, 2020 Acrylic on Canvas. You can see and buy this artwork in the actually exhibition in the PAKS Gallery in castle Hubertendorf. Please for an appointment.management@paks-gallery.com.
Lee, Young-Sik is a German-Korean painter & graphic artist, lives and works in Berlin, GermanySince 2020, Judge for Drawing Contest & Member of the Global Artists Committee at Asia Art Association in SingaporeHe has been living in Germany since 1990, where his mother taught as a guest lecturer for East Asian literature at the University of Leipzig. He studied at the Freie Akademie for Kunst in Painting & project studies in Berlin, Germany. He forwards studied at the Berlin Technical University for Communication Design and Visual & Motion Design with Professor Hans Grimmling. For his artistic precision and deepening, he received private lessons for Fine Arts with Professor Arno Rink, rector at the famous art University Leipzig and with university lecturer Herbert Vicenz for artistic anatomy and nature studies for several years.He has numerous solo and group exhibitions in Berlin, Leipzig, Cologne, Hamburg, Schwerin in Germany. He was invited to numerous international Art Fair, e.g. Art Innsbruck in Austria, Parallax Art Fair in Chelsea- London, Parallax Art Fair in Kensington- London and Gallery O Maribo- Copenhagen Denmark, etc.In 2019, he was invited by the Ministry of Culture Cuba to a solo and group exhibition for 500th Anniversary in Havana, Cuba, as a German delegation and his printing works were in Havana exhibited.Collector of his painting works: Humboldt University Klein gallery in Berlin- Germany, and private Collectors in Madrid and Berlin.He has also been invited to several international Art Fair in 2020 and 2021. His works are already on the way, e.g. for MAMAC Modern Art Museum exhibition in Austria, International Contemporary Art Fair Carrousel du LOUVRE in Paris, PAKS Gallery Representation as Gallery Artist in Vienna and Munich and Clio Art Fair 2021 in Manhattan in New York, U.S.A. for Cannes Biennale 2021 in France, Biennale Basel 2021 in Swiss.
#contemporaryart #artwork #artgallery #kunstgalerie #modernart #modernart #painting
Online Siebdruck ausstellung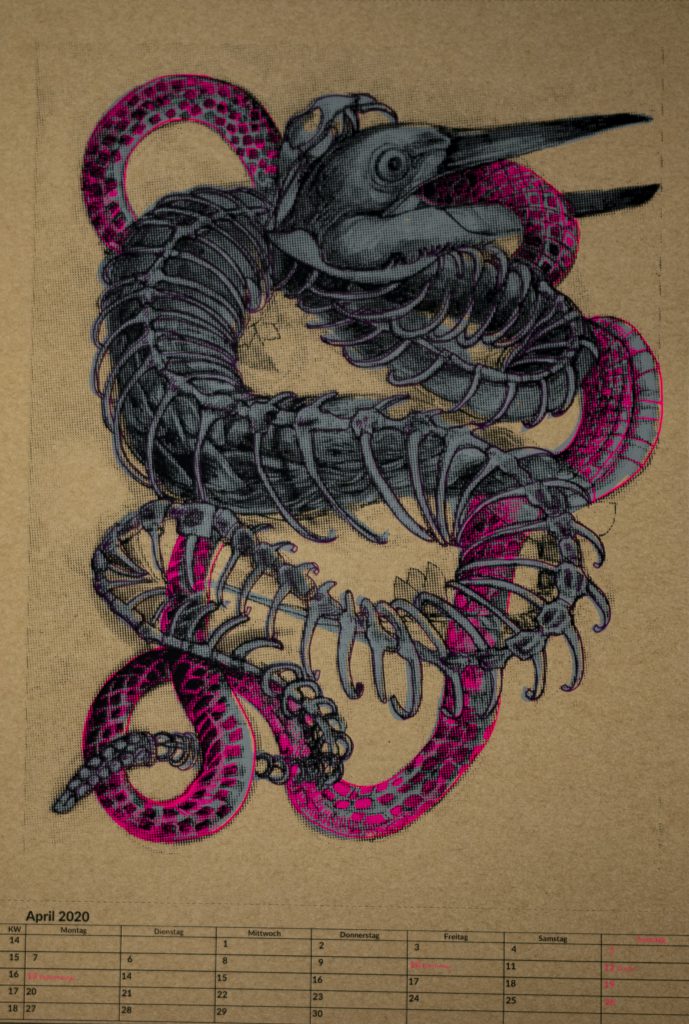 https://kohi.de/kunst/bacon_raum2-2020/Online
Young-Sik, Lee
.                                                                                                   Kriegstanz. Siebdruck .
Mr. Bacon ist ein Siebdrucker aus Berlin, der vorwiegend für Künstler, Galerien und Museen arbeitet. Seit 2019 lädt er deutsche und internationale Street-Art-Künstler und Grafiker ein, sich mit einem Motiv an einem Kalender zu beteiligen.
Jedes Blatt wird von Hand gedruckt, jedes Blatt ist eine perfekte Verschmelzung von Kunst und Handwerk. Überzeugt Euch selbst und schaut Euch die Online-Ausstellung an!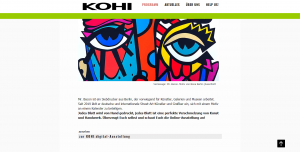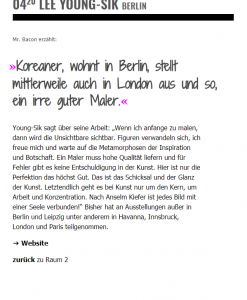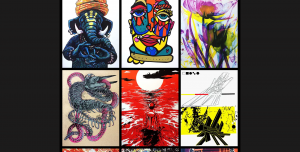 Katalog zur Ausstellung International Contemporary Art Fair Carrousel Du Louvre in Paris ist erschienen .
Zwar wurde die International Contemporary Art Fair Carrousel du Louvre  Paris wegen Corona für 2021 verschoben. Aber die Katalog "Moden Art Master in Complex Du Louvre 2020 in Paris " ist erschienen.
Darunter widmen 2 Seiten über mich.
Ich bedanke mich bei Herrn Heinz Playner (Art Direktor,Kurator, Paks Galerist) herzlich für die Ausgabe.
Bald erscheint ein Bericht im renomierten Magazin in London.
Ich freue mich sehr über den Artikel.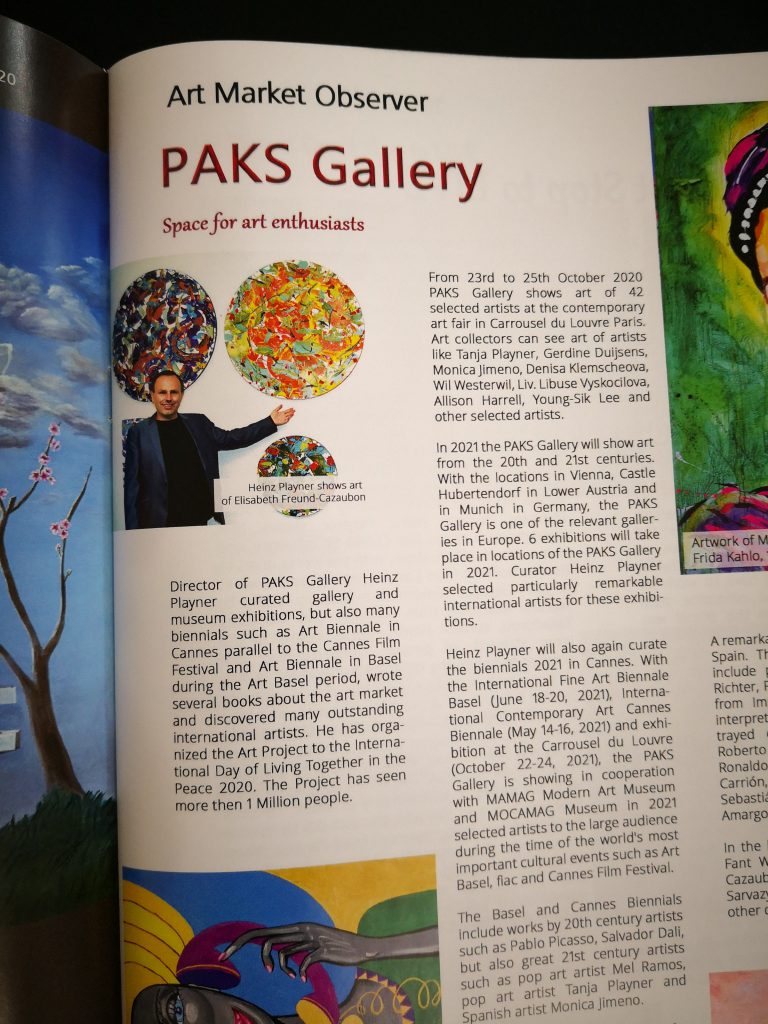 International contemporary Art fair in Paris für nächste Jahr verschoben.
Liebe Kunstliebhaber/innen.
Gerade bekomme ich eine Nachricht v. dem Organisator aus Kunstmesse in Paris. Und berichtet mir, das die Kunstmesse in Paris für nächste Jahr verschoben wird.
Wir finden das sehr gute Entscheidung, weil wir uns sehr ernsthafte Situation befinden.
Der Galerist versicherte mir, dass mein Werk bis nächste Jahr in seinem Galerie gut gelagert wird.
Also ich freue mich, euch mitzuteilen.
Das die International contemporary Art Fair in Paris nächste Jahr 2021. 22- 24. October stattfinden.
ich wünsche euch von ganzem Herzen Gesundheit und Glück.
Eurer Lee young – Sik
Dear Artist,
We have received a message from the organization of the art fair in Paris that the art fair has been postponed to next year.
In the current situation we think that it is also a right decision. Although we have already printed the catalogs for this year, done some PR work, prepared all works for transport to the fair and put a lot of time and effort into each of our artists.
You do not have to worry. Your participation is assured for next year. Make a note of the new dates of the Paris Art Fair: 22-24 October 2021.
All delivered works can stay with us in the warehouse of the gallery for the art fair in Paris 2021. You do not have to worry.
We look forward to showing your art in Paris from October 22nd to 24th, 2021.
We wish you all good health and creative time despite the current global situation.
best regards,
Heinz Playner
Curator, Art Critic, Director of PAKS Gallery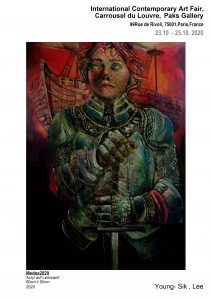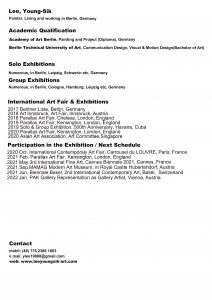 Kunstmesse, Carousel du Louvre.Paks Gallery
Liebe Kunstfreunde.
Am 23. 10 bis 25. 10 2020 werde ich in Kunstmesse Carousel du Louvre in Paris meinen Bild präsentieren.
Weitere Informationen Folgen demnächst.
Eurer Lee Young Sik.
Paksgallery.
Kunstmesse Carrousel du Louvre
99 Rue de Rivoli, 75001 Paris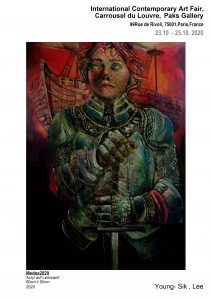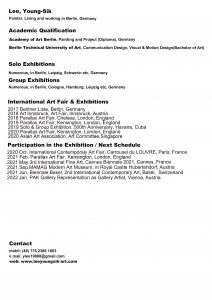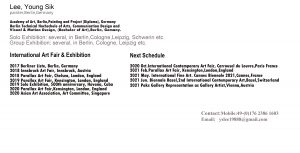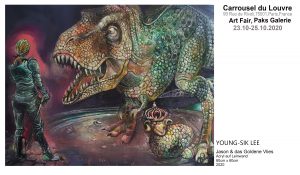 Asian Art Association
Freue mich euch mitzuteilen, dass ich als Komitte der Asian Art Association in Singapur geehrt wurde.
Wir alle kämpfen gegen Covid 19 mit dem Kreativität.
Bitte bewerbt euch für Charity painting weltweit.
Mehr https://en.artassociation.asia/worldcharitypaintingcompetitionfightcovid19/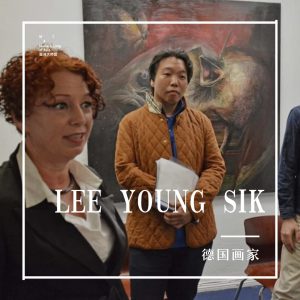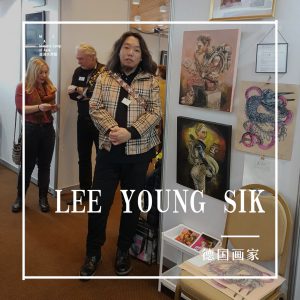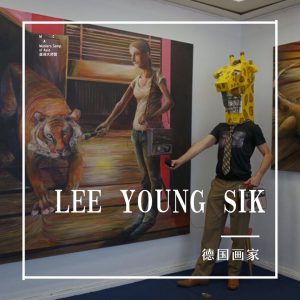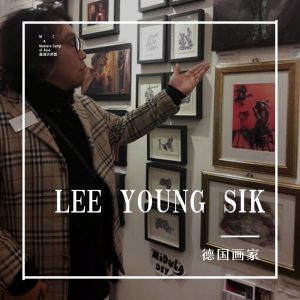 Asiatische Kunstverband Meister Einführung: Lee young sik / deutscher Maler
Lee Young Sik, deutscher koreanischer Maler und Grafiker, wurde in Seoul, Südkorea, geboren. Seit 1990 lebt er in Deutschland und seine Mutter war Gastdozentin für ostasiatische Literatur an der Universität Leipzig. Er studierte Malerei und Projektstudium an der Freie Akademie in Berlin. Er studierte Kommunikationsdesign und visuelles Design an der Technischen Hochschule Berlin, Professor Hans Grimling. Aufgrund seiner künstlerischen Präzision und Tiefe war er Professor Arno Rink, Präsident der Kunsthochschule Leipzig und Universitätsdozent Herbert Vicenz) mehrere Jahre lang einen privaten Kunstkurs absolviert, der in Kunstanalyse und Naturforschung lehrt.
Mehr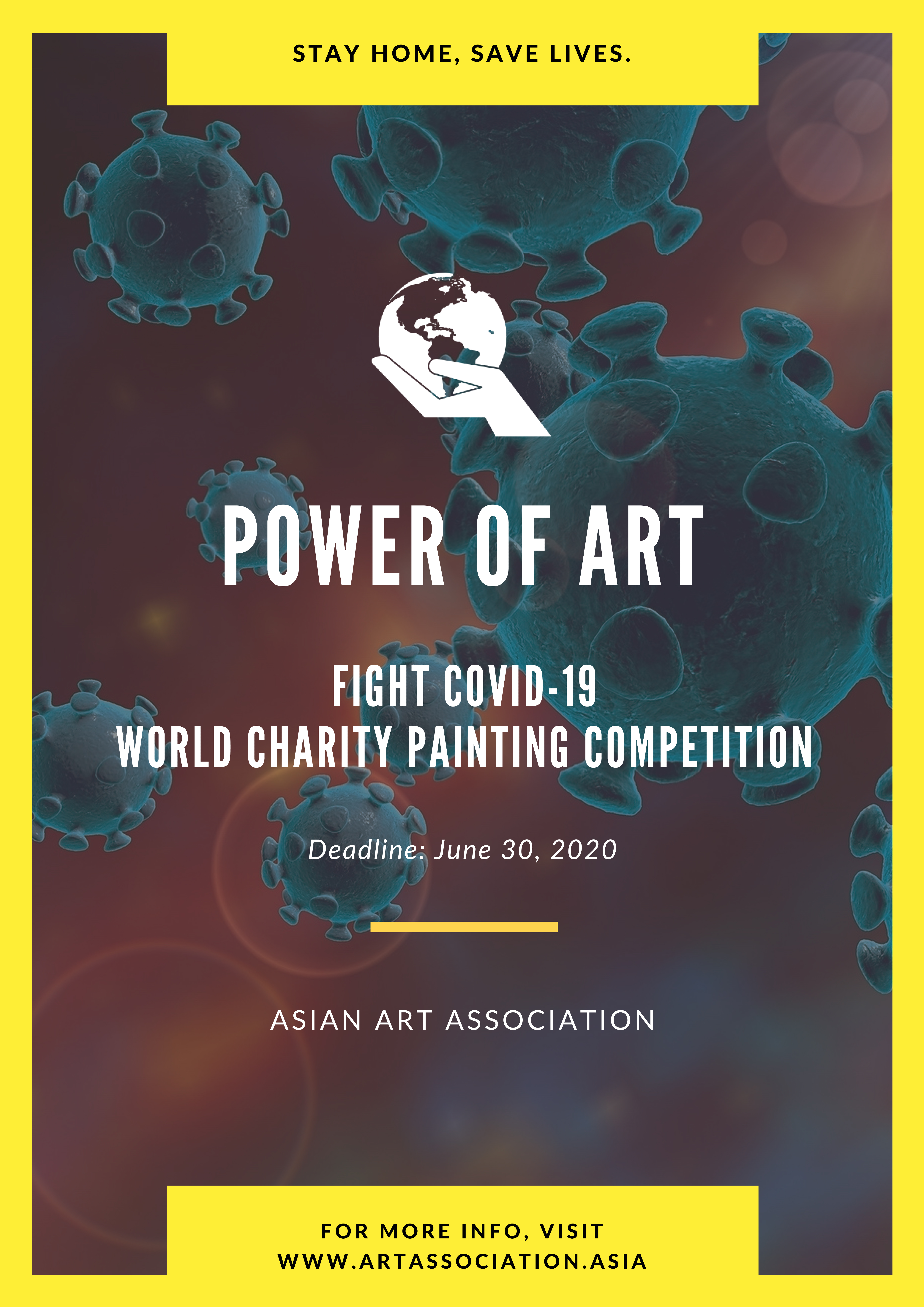 https://www.artassociation.asia/master/leeyoungsik/